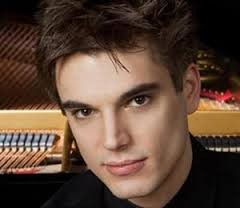 Acclamé par The New York Times pour « la passion et la poésie » de ses exécutions, le pianiste Andrew Tyson émerge comme une voix musicale caractéristique et fascinante. Depuis qu'il fut lauréat du Young Concert Artist International Auditions en 2011, Andrew Tyson a reçu un Avery Fisher Career Grant en 2013, le sixième prix au Concours international de piano Reine Élisabeth  de Belgique 2013, le Prix de la Ville de Bruxelles et le cinquième prix ainsi que le Terence Judd-Hallé Orchestra Prize au Leeds International Piano Competition 2012. Le prix lui amena trois exécutions du Concerto n° 2 de Rachmaninoff avec l'Orchestre en novembre 2012, et des engagements pour la saison 2013 – 2014 suivirent.
Au cours de cette saison, Andrew Tysonl se produira avec le Kansas City Symphony, le Colorado Symphony, le Chamber Orchestra of the Triangle et le Hilton Head Symphony ; il donnera des récitals dans le cadre des St. Stephen's Concert Series ainsi qu'au Falany Performing Arts Center, au Isabella Stewart Gardner Museum à Boston et au Caramoor Festival. Il part aussi en tournée dans le Royaume-Uni avec le Hallé Orchestra, avec à son programme les Variations Paganini de Rachmaninoff qu'il jouera à Gateshead, Manchester et Blackburn, et le Concerto n° 4 de Beethoven à Leeds.
Andrew Tyson s'est produit au Coolidge Auditorium de la Library of Congress à Washington, DC, à la National Chopin Foundation à Miami, au Brevard Music Festival, au El Paso Chopin Music Festival et à New York à l'International Keyboard Institute&Festival. Andrew Tyson s'est produit à l'étranger au Paul Klee Zentrum en Suisse, à la Filharmoni Narodowa en Pologne, au Sintra Festival au Portugal et au Festival Cultural de Mayo à Guadalajara au Mexique. Il a joué en soliste avec divers orchestres, notamment l'Orchestre national de Belgique sous la direction de Marin Alsop et l'Orchestre Royal de Chambre de Wallonie. Il s'est aussi produit en solo en Caroline du Nord, dont il est originaire, avec le Durham Symphony, le Raleigh Symphony et la Chapel Hill Philharmonia.
Il fit ses débuts en récital à New York au Rhoda Walker Teagle Concert au Merkin Hall et à Washington, DC au Kennedy Center's Terrace Theater dans la Young Concert Artists Series où il fut très acclamé. Aux YCA Auditions, Andrew Tyson se vit décerner le YCA's Paul A. Fish Memorial Prize et le John Browning Prize ainsi que trois prix couronnant des exécutions : le Brownville Concert Series, le Lied Center of Kansas et le Bronder Prize for Piano of Saint Vincent College.
Andrew Tyson fit ses débuts orchestraux à l'âge de quinze ans en tant que lauréat du Eastern Music Festival pour se produire avec le Guilford Symphony. Au début de sa formation, il fut l'élèvre de Dr. Thomas Otten de l'University of North Carolina. Il est diplômé du Curtis Institute of Music où il travailla avec Claude Frank, il obtint son Master's degree à la Juilliard School où il travailla avec Robert McDonald et il est actuellement dans le Artist Diploma program de la Juilliard School où il fut lauréat de la Gina Bachauer Piano Competition.
Andrew Tyson a choisi le « Brussels Piano Festival » pour son premier retour à Bruxelles depuis son succès au Concours Reine Elisabeth.
---
8 Octobre 2013
20 h oo  Salle Gothique de l'Hôtel de Ville de Bruxelles
---
PROGRAMME
F.CHOPIN
– 3 Mazurkas op. 59                                        
– Barcarolle op. 60
– 3 Valses op. 64
– Polonaise op. 53
– Impromptu n° 3, op. 51
– Sonate n° 3, op.58